Blog
Retour aux articles
XP-Pen DECO 02 Graphics Pen Tablet Review: Best drawing tablet for Photoshop and Photo-Editing
10 juil. 18 | par
Maman
A drawing tablet, also known as a graphics tablet, uses a pen or stylus to translate your strokes from the tablet to your computer screen with an incredible degree of precision. It's much more natural and comfortable to use than a mouse or touchpad, whether you want to paint, illustrate, animate in 3D, create a comic, or retouch photos.
I don't recommend pro tablets—like an iPad Pro or Microsoft Surface Pro—or graphics tablets with a screen—such as the Wacom Cintiq—for beginners because they're prohibitively expensive. If you're dipping your toes into digital art, you should try an affordable graphics tablet first to see if it meets your needs.
What do you use it for? productivity!!
This is a question that I get asked all the time when I'm telling people about XP-Pen tablets. It's generally accepted and understood that pen tablets are great for photo editing, but many people seem surprised that I use the tablet for everything, even just browsing the internet! When you first get a tablet like this there's a definite learning curve that lasts a day or two, but after that, the pen just feels like a faster and more natural way to move a mouse pointer around a screen. Obviously brush-based editing in Photoshop or Lightroom is much more accurate and natural with a pen tablet, but even working through all the sliders in photo editing interfaces feels more nuanced and much, much faster. It's hard to quantify these kinds of time savings, but I'm confident in saying that everything I do with a XP-Pen tablet is faster than doing it with a mouse or laptop trackpad. If I ever have to work without one, everything just feels glacial by comparison.
The other major thing that helps with productivity is the application-based ExpressKeys on the side of the drawing area. You can set these to have global functions, or you can set them to be different for every application you use. Many people quickly customize them for use with major programs like Photoshop, but I also set up keys for things like Google Chrome and my favourite writing app, Scrivener. If you decide to get yourself an DECO 02, do yourself a favour and set aside an hour or two in your first few days to do some major customization to the ExpressKeys and the Touch Ring, it will improve your workflow immensely.
Features
The DECO 02 tablet has superior build quality , high precision and accuracy .The DECO 02 has 8 Express Keys down the its side, and a nifty touch wheel. Its workspace is 10 x 5.63 inches. It's only about a quarter-inch thick. It works with Mac, PC, and Linux/Ubuntu. You can use wireless mice and keyboards with this tablet. The resolution is 5080 lines per inch. The battery-free, rechargeable pen has 8,192 levels of pressure sensitivity.
A larger, cheaper option for beginners .It sells for £109.99 , FREE Delivery in the Amazon UK: https://www.amazon.co.uk/XP-PEN-Graphics-Drawing-Shortcut-Pressure/dp/B07D6MNGY3 .
Large Tablet size:
Like choosing a monitor or a laptop, choosing a drawing tablet size depends on your preferences and needs. Small graphics tablets, like the XP-Pen Intuos Draw, are about the size of a mousepad (6-by-4-inch active area) and highly portable. They can fit beside your keyboard and can function as a trackpad if the tablet supports multitouch—Dickey mentions that many designers use only their tablet and ditch the mouse completely.
Medium (8-by-5-inch) and large (10-by-6-inch) drawing tablets are about as wide as a keyboard without a numberpad, so they're better suited for dedicated graphics work.The active area is where you draw, and it's mapped exactly to your display. That means if you click on the bottom left of the tablet, the cursor will jump to the bottom left of your screen. No matter what size your monitor is, when you move the pen on the tablet from the left edge to the right, it will move the cursor from the leftmost edge of your screen to the rightmost edge—even if you have multiple displays.
The smaller the active area, the less your hand must move to manipulate the cursor on the screen. This can mean less arm fatigue, but when working on large (or multiple) displays you may need to zoom in to work with fine details or map the active area to a portion of the screen. If you're used to making large strokes or prefer to work fullscreen on a monitor larger than 20 inches, a larger tablet might be for you.
If you need more drawing space because you prefer making large strokes, or if you work full-screen on a monitor (or monitors) larger than 20 inches, the XP-Pen DECO 02 is the best large tablet you can get for less than $150. It has a 10 x 5.63 inch active drawing area.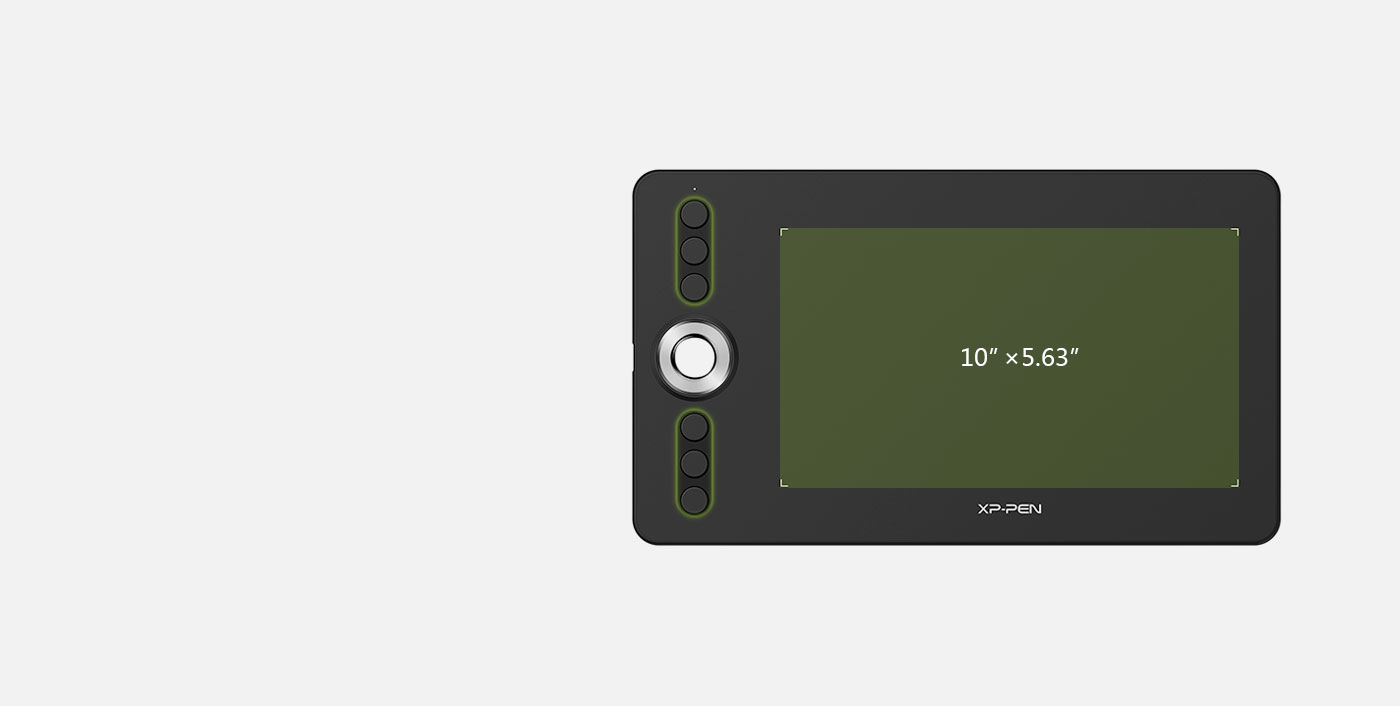 Pen, Pen Functionality & Pressure Sensitivity

The XP-Pen DECO 02, uses the new Pen P06. It has a great ergonomical design that feels light in the hand. It has two programable buttons on the pen shaft and the typical eraser on the back.
It's very responsive and allows for ease of use when doing detail work. The DECO 02 and the Pen P06 work together using EMR technology (Electromagnetic Resonance), which means the display is the active digitizer and the pen is the passive part. This is a good thing, despite some people suggesting AES is better, because here, the pen doesn't need to be charged, it's lighter, less expensive to replace, and unlike AES systems there is no delay in inputs so it feels immediate and natural. EMR jitter is also not a problem with this combination.
All of our experts agreed that the most important feature is pressure sensitivity. The higher the pressure sensitivity, the better you can control line weight (how thick and opaque lines are based on how hard you press down on the tablet with the pen).
The new Pro also boasts 8192 pressure levels compare to the outgoing model's 8192, which is far more than you'll need, and for retouching work you'd be a minority if you could really tell the difference. For 99% of photographers, the 1024 levels found in lower-end tablets of 4 years ago are fine. Animators and digital painters and so on may find this a welcome benefit though.
You may also notice that the pen base and stand has also be reworked. It's weighted, and like the last generation, it houses the extra nibs which come in a variety of options.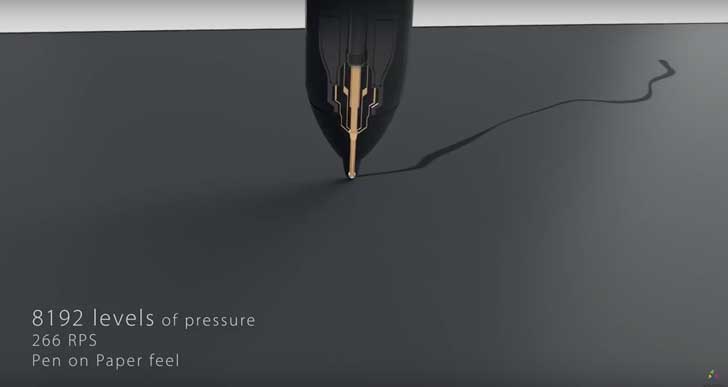 Surface & Touch
The surface is mappable; you can decide how much of the tablet you want the pen to work on. The surface has a grip to it that eases drawing. It is hard plastic, not rubbery like the Wacom Bamboo. It feels not quite as slippery as glass, more like thick, smooth paper.
The surface of this DECO 02 Graphics Painting Drawing Pen Tablet is hard plastic, less prone to scratching than Wacom Intuos, partly because the pen nibs are rounded. If you are getting scratches it may depend how you are holding the pen, some people "sharpen" nibs as they draw. It also of course depends how much pressure you apply.
Most graphic artists I know like more drag and feedback and most photographers I know like them really smooth. You can even buy a clear overlay if you want a totally smooth feeling without inputting the time to wear down the surface – and your nibs while you're at it.
Personally, I prefer a really slick surface so I tape down a plastic transparency sheet on top of my tablet, cut to the size of how I mapped my surface. My nibs also don't wear down that way. I can retouch as fast as humanly possible without any of the drag. To me, it saves time and that brings in more $.
Accuracy and Resolution
But the accuracy of the tablet surface and the pen do feel noticeably better than the last generation, and reverting back makes it all the more obvious . This is perhaps due to a myriad of things, like the re-worked pen being slimmer, and better performance of the edge coils sending their signal back to the digitizer. But beyond that there's the matter of resolution.
Resolution determines how many lines you can draw per inch (lpi), which translates to how much detail you can draw in the tablet's active area.
While 'resolution' isn't something we typically associate with a device without a screen, it exists in a manner of speaking. In regards to tablets, it refers to the number of lines that can be drawn per inch (LPI) on the active area, and on the XP-Pen DECO 02 it's about 5,080 versus the 2,540 of other smaller ones.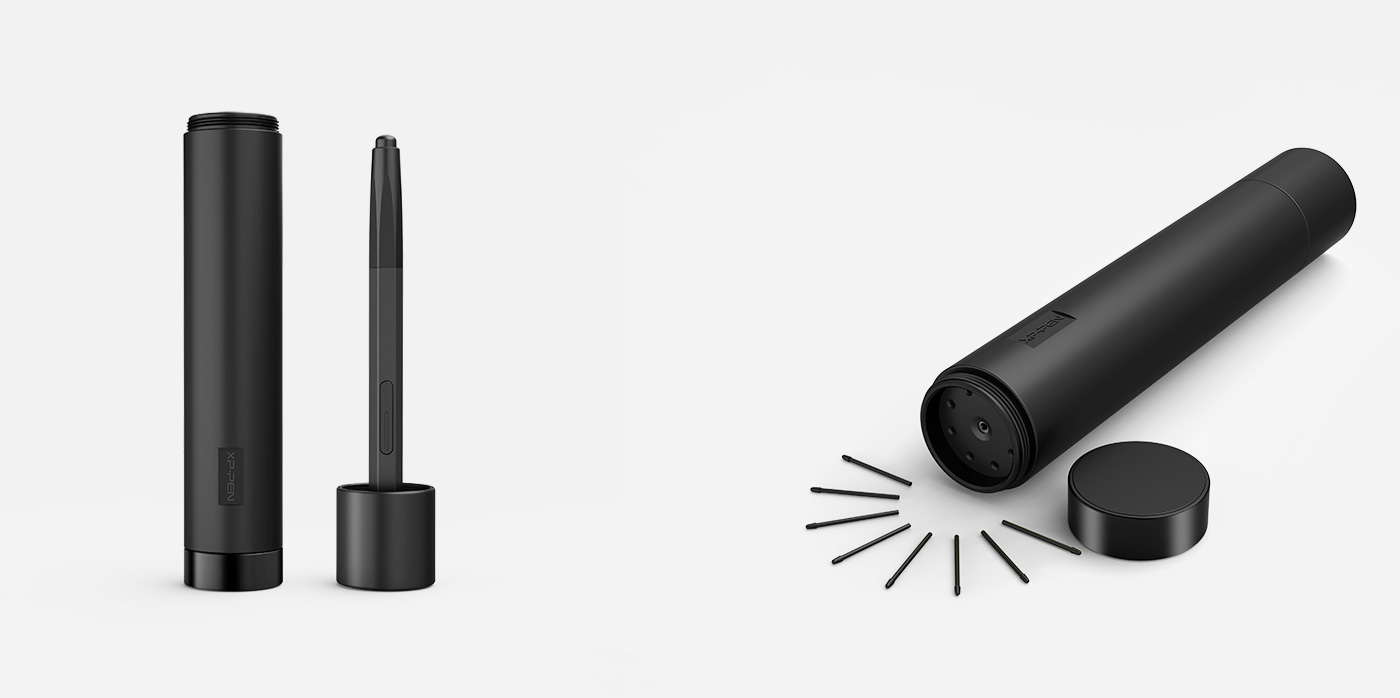 Customizability | Express Keys
Like the outgoing model, the Express Key and Wheel orientation is a major plus compared to lower-end models, if for no other reason than if just makes sense. Some other tablets have the buttons on the top of the tablet which tends to require breaking a stream of actions in order to activate them, but a hand can be dedicated to hover over the keys on the pro without any interference of the active tablet area. And that's either a right or left hand, because the location of the keys allows the tablet to be flipped for use by both right handed people and southpaws. Again, something that cannot be done with the others.
Suffice to say, having the buttons and wheel here just make sense of movement, as you set the buttons to an appropriate selection and then it's just go, go, go.
There are 6 buttons to be depressed and 2 on the Pen, and lightly touching the keys but not pressing them will bring up a translucent screen that will show you what it does, if you like. But of course the touch wheel can be configured many different ways to control brush size to cycling layers, and then there's the option of setting up a Radial menu for even more functionality.
The level to which this tablet can be customized is truly vast, and in time it tends to evolve, so it's great that it allows the space to do so. And you can do it all from the preferences menu, in which you can make different set-ups for different applications. I'll use something different for Photoshop, Capture One, Lightroom, and Affinity.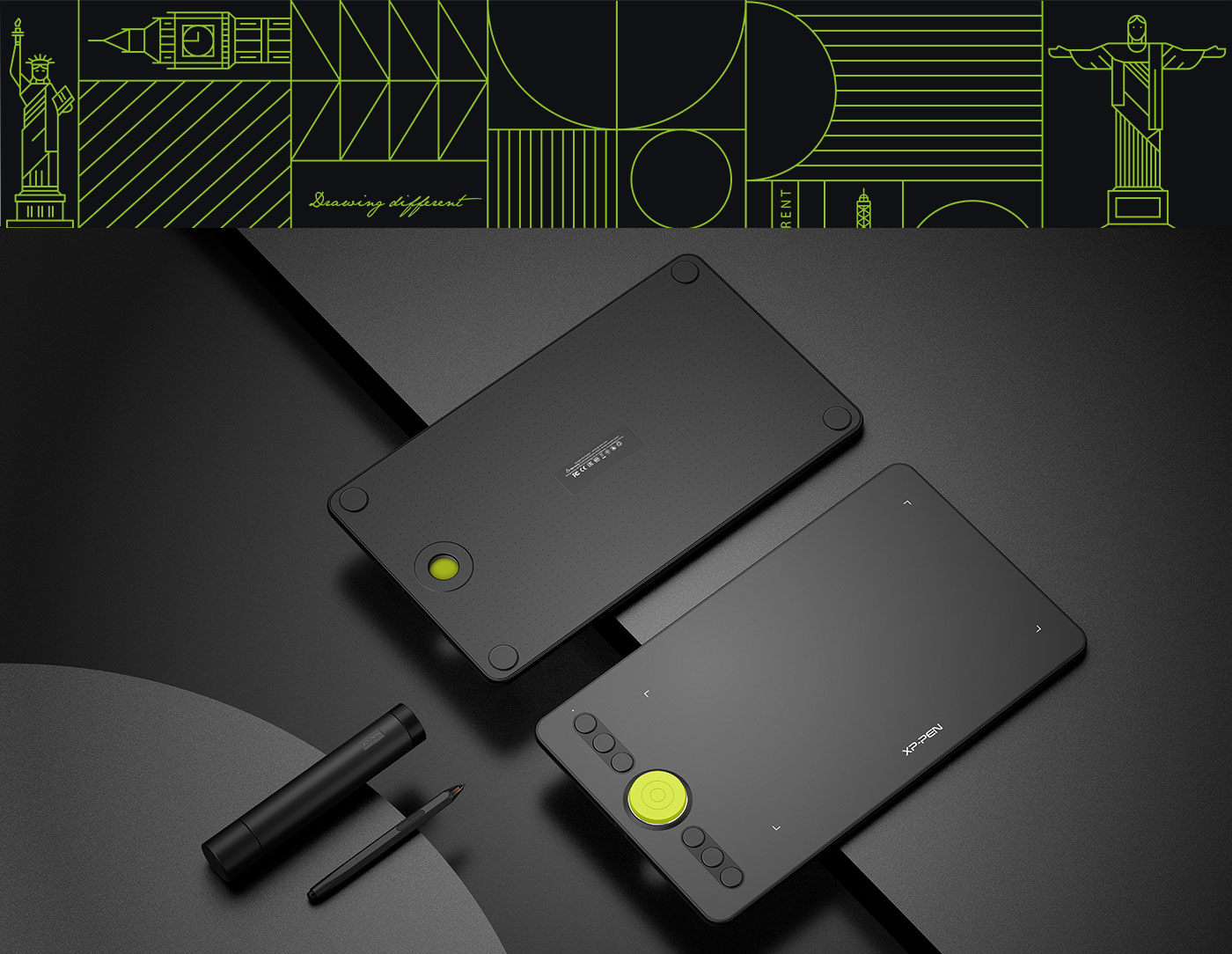 Driver stability, program compatibility, and input lag:
The driver affects how well the drawing tablet works with your computer, It's super-important.Before installing the drivers, you should disable any other XP-Pen drivers and mouse drivers, then the XP-Pen, then restart. Turn off Internet and don't turn it on again until after the tablet is connected and working, or else the computer's plug and play driver may automatically be installed. Plug the tablet into the USB port of your computer only after you boot up the computer.
You should install as Administrator. Shut off any antivirus programs. If you're reinstalling, delete the old drivers. Make sure to download XP-Pen's customized driver directly from their site. Install it before plugging your tablet in for the first time.
I downloaded the latest driver on XP-Pen's website .With the tablet driver, you can change things like keyboard shortcuts to the buttons on the tablet and stylus, pressure sensitivity and mapping area of the tablet (best left at default).
Compatibility:
The drawing tablet XP-PEN Deco 02 supports Windows 10/8/7, Mac OS versions 10.8 and above. Also compatible with many major designer software such as Photoshop, SAI, Painter, Illustrator, Clip Studio, and more.
Thinner, Lighter, and Stronger
Another size change is how thin it has become. It's about 9mm thick and more compact. It feels much lighter as well. You'll notice with said cable that this time around XP-Pen has gone for a USB-C type port, but it does supply cables that are backwards compatible for computers without that port type. This contributes to the slimness of the device,One issue people had on the previous tablet was the connector not being resilient. The USB-C connector is really strong and doesn't budge at all. It doesn't wiggle and isn't as prone to breaking or having connection issues.
I don't have a number of hours for battery life, but you won't run out of juice after a full day of editing.The base also has those rubber strips at the bottom that let the tablet sit with a clean stance. It hasn't moved much no matter how aggressive I use it. I can also tell in the long run, it won't wear out easily.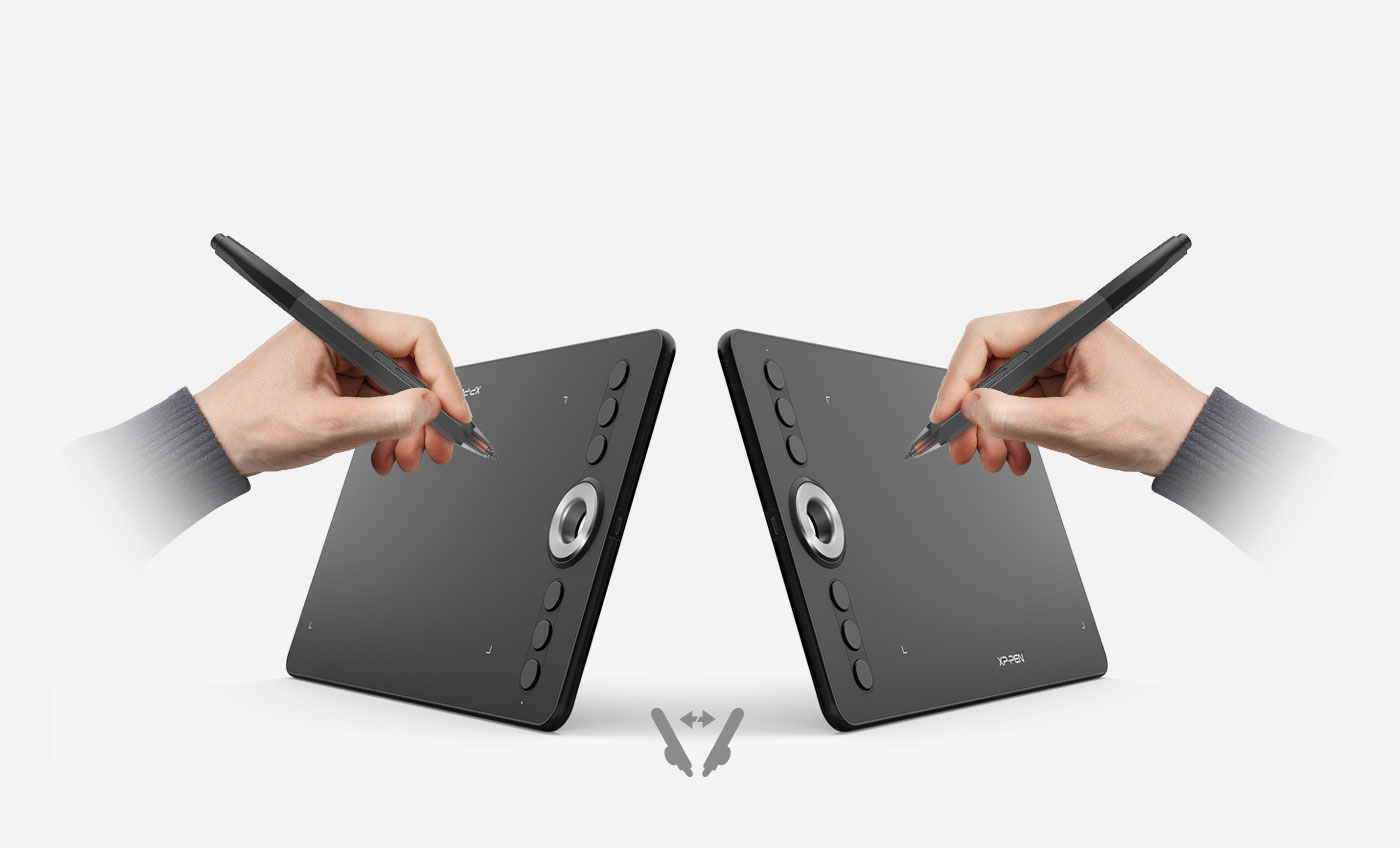 Drawing experience
Drawing experience is great.The drawing surface is around 10-by-5.63-inch size but slightly wider because it's designed for wide-screen monitors. The drawing surface is matte and when the nib is on it, there's a tactile feel to it, again very similar to XP-Pen stylus on their own tablets.
The 8192 levels of pressure sensitivity works well. The stylus is very sensitive. Strokes taper well. Basically, the stylus works as expected, except when it comes to certain applications . There's no tilt sensitivity though.
Conclusion
A XP-Pen DECO 02 digital graphic drawing tablet for Mac ... is an essential item for anyone that enjoys the experience of editing their photos, or simply has to edit them in large volumes. Show off your creative abilities with the DECO 02 tablet. Compatible with your favourite creative software programs, this wireless touch tablet lets you draw, sketch, edit photos and more with the natural comfort of a pen.
The tablet is definitely very affordable when compared to Wacom Intuos Pro. The drawing surface is large and that's a comfortable size to draw on. It's priced under £120. For XP-Pen Intuos at this size (medium), they usually sell for twice the amount.
XP-Pen Deco 02 Official Site : https://www.xp-pen.com/product/88.html
5 commentaires
Ajouter un commentaire
1. RebPaycle a écrit le 2 juin 2019 23:13
2. RebPaycle a écrit le 14 juin 2019 20:58
3. RebPaycle a écrit le 25 juin 2019 14:37
4. RebPaycle a écrit le 7 juillet 2019 12:10
5. RebPaycle a écrit le 19 juillet 2019 20:04
Les commentaires sont désactivés